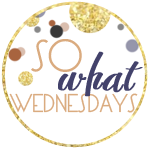 This week I am saying so what if...
~ I think I am going to start pulling out my Christmas decorations. Not the tree (I will wait another week for that) but I want to start putting up my greenery.
~ I don't mind watching cartoons in the morning with Amelia, except they need a better one on at 9:30. Not a fan of Dora or Higgley town. She mostly plays but she loves the songs.
~ I can't wait for the hunger games movie to come out! Seriously soo excited (I will not be going the first day or dressing up though).
~ I think I have decided I might need an Erin Condren life planner. Sometimes it is just easier to stay organized on paper.
~ I am three weeks behind on SOA so I might need to start catching up!
~ My car really needs to be vacuumed but I just haven't gotten around to. Now that I think of it so does my house ;)
~ Today I am going to try taking a holiday picture of Amelia again. I really want a smiling one and I even got lights to put behind her this time.
~ Requests are already coming for my caramels. I may have to set aside some time to start making them (although I usually wait until December).
That's it for me today, what are you saying so what to?